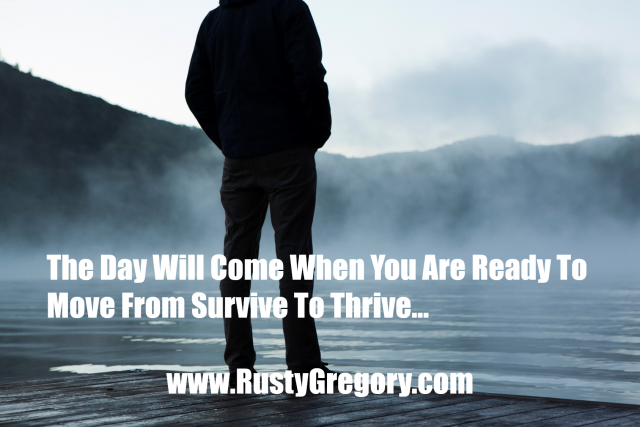 We've been told for years to eat "healthy," exercise and take our vitamins in order to avoid the dangers of poor health. Combining these recommendations with the hustle and bustle of our hectic lives makes it seem impossible to lose that extra 10 or 15 pounds that we promise ourselves at the beginning of every year. If we would just eat less and exercise more, but there is actually a whole lot more we can do that doesn't require a lot of time, money and effort. Here are some fun and exciting tips to take back your health and start living life to its fullest.
Eliminate Sugar, All Grains and Vegetable Oils from Your Diet
Eliminating these foods from your diet will help in losing weight, healing your gut and reducing inflammation that leads to various chronic illnesses and autoimmune disorders. Eating nutrient-dense real food, such as pasture-raised eggs, grass-fed beef, organic green vegetables and dark chocolate with 85%+ cacao, is the logical and healthy substitute for the "fake," processed foods that raise your blood sugar you will be giving up. These foods are major contributors to the increase in chronic diseases that we are experiencing today.
Move Throughout the Day
This probably goes without being said, but I'm going to say it anyway, "Get up and move." Did you know that according to studies, people who exercise one hour a day and sit the rest of the day have a higher risk of early death than those who do not exercise regularly, but move around all day and spend very little time sitting? Apparently, sitting kills! Also, muscles tend to relax, shorten and weaken for chronic sitters leading to poor posture. Over time this will create aches and pains that can limit some of the most basic daily activities. Standing and moving around throughout the day is a metabolism jump-starter and potentially wards off life-threatening chronic diseases. So, if you find yourself confined to a desk at work or driving a significant part of your day, take frequent breaks and stretch, walk around the office or pull your car over and get out and move around. Movement, it does a body good!
Manage Your Stress, Daily
Stress seems to be associated with every negative health condition; it increases our desire to eat unhealthy foods, raises our blood pressure, reduces our immune function and jeopardizes our relationships. Finding ways to lessen the blow of stress on our health is essential to a long, healthy life. Some of the following activities have shown to reduce stress and the harm it causes:
Exercise
Take a bubble bath
Read a book
Have a roll in the hay
Spend time with loved ones
Listen to your favorite calming music
Get a massage
Meditate
Take a relaxing vacation
Deep breathing exercises
Get an Adequate Amount of Sleep, Regularly
We individualize our diet and exercise program, why not our sleep program? Although there are some differences amongst each of us, studies show the majority of us need 7-9 hours of sleep each 24-hour cycle. When we don't get the amount we need a sleep deficit occurs leading to several negative side effects such as inability to concentrate and focus and forgetfulness. A chronic sleep deficit can produce a fertile ground for such health conditions: heart disease, hypertension and diabetes.
The hue, quantity and intensity of light play a major role in how our brain interprets "daytime" and "nighttime." With our lack of outdoor sunlight and artificial light at night due to our modern lifestyle, we have altered our natural inclination to be regulated by the 24-hour cycle. This has led to under-performing in the bedroom, so to speak, with many people falling short of the needed 7-9 hours of sleep. If this sounds like you, create an environment for success by turning off all lights, cell phones, computers and televisions to get the sleep you need.
Take Necessary Supplements
There is no doubt that eating a nutrient-dense, real food diet will provide you with many essential macro and micro nutrients. However, certain important dietary supplements should be added to ensure great health. They include:
Magnesium, one of the most important elements in the body related to good health, assists in lowering blood pressure, controlling blood glucose levels and dilating arteries allowing for greater blood flow.
Omega-3 fatty acids are considered anti-inflammatory and counter inflammatory omega-6 fatty acids. This matters because the majority of diseases that we see today are due to inflammation.
Cod liver oil lowers inflammation and glucose tolerance and strengthens heart function. Its powerful vitamin A, D and K2 content offers many health benefits.
Probiotics boost the amount of good bacteria in your gut. Seeing that this is where the majority of where your immune system resides this is kind of a big deal. Delicious probiotics include kefir (fermented milk), sauerkraut, kimchi (fermented vegetables) and kombucha (fermented black or green tea).
Have Sex with Your Spouse Regularly
Unfortunately, there isn't a known magic number of times a week for couples to have sex to enjoy great health. However, what is known is that intimacy (physical and emotional) is essential for the optimal health of both people involved in the marital relationship. Therefore, the optimal frequency for having sex comes from the simple question, how connected and intimate do you want your marriage to be? What most experts concur is that the marriage couple agrees upon the frequency. The goal should be for both people to be satisfied, with neither one feeling pressured beyond their comfort level. This is critical to a happy and healthy marriage.
Sex is also known to strengthen your immune system (Immunoglobulin A), reduce stress and its effect on your health and increase intimacy with your spouse. So, what are you suppose to do when the libido is low for one or both of the partners? Recent research says to do it anyway because once you begin you will enjoy it and the connection and intimacy will follow.
Eat / Drink Fermented Foods
Creating an environment in your gut that is conducive to overall good health is just what the doctor ordered. It is estimated that 80-85% of our immune system is in our gut. This makes the amount of healthy bacteria in our gut the utmost of importance. Healing your gut will help prevent leaky gut that can lead to all sorts of problems such as, inflammation, autoimmune diseases like rheumatoid arthritis and type 1 diabetes, depression and anxiety, multiple food sensitivities, obesity and type 2 diabetes.
A comprehensive approach to keeping your immune system clicking on all cylinders is to add fermented foods / beverages to your diet on a regular basis. Foods like kefir (fermented milk), kombucha (fermented black or green tea), kimchi (fermented vegetables) and sauerkraut provide the healthy bacteria your digestive system needs to help ward of disease.
Eat Healthy Fat
We have been told for fifty years that eating a high-fat diet will lead to obesity and heart disease. Instead we should eat a low-fat, high-carbohydrate for optimal weight and health.  Unfortunately, this information has created the obesity and chronic disease epidemic that we have today. Eating healthy fat allows us to have proper nerve, brain and cell functioning, transport the fat soluble vitamins A, D, E and K and regulate certain hormonal processes. Avoid trans fatty acids which lead to heart disease and stroke and limit omega-6 fatty acids (polyunsaturated fat) which increase inflammation and disease.
Strengthen Your Relationships
A strained relationship with your spouse, boss, coworker or family member can not only make life totally miserable, but it can also weaken your health. The stress created by a relationship gone bad can generate feelings of depression, anxiety and other psychological distress that can wreak havoc on physical health. Additionally, disease symptoms tend to be more severe and the ability to recover from disease slower in those experiencing relationship strain.
Practicing certain relationship skills, such as laughing together, expressing gratitude and empathy, trustworthiness and an attitude of servitude will go a long way in healing an ailing relationship. A willingness to assume responsibility for your failing contributions to the relationship will help motivate a desire for change.
Become More Mindful
It has been said that what gets your attention, gets you. When we are intentionally non-judgmental and present in the moment, we are more likely to change our minds and our behaviors, and increase our control over healthy lifestyle decisions. This sense of focus, known as mindfulness, offers several health benefits above and beyond just the desire to change. Mindfulness can:
Increase appreciation and optimism – helping people make more positive lifestyle changes
Reduce stress and anxiety
Lower depression
Boost the immune system
Lower blood pressure
Do Not Neglect Your Spirituality
Religion and spirituality have shown to decrease the risk of destructive lifestyle behaviors such as smoking and alcohol and drug abuse. Once you discover your purpose in life hope and optimism grow producing fertile ground for positive lifestyle change. This same realization promotes socialization amongst like believers and therefore, reduces the risk of depression. The positive emotions that are generated through the greater sense of meaning created by a developed faith will ultimately lead to a more positive outlook on life.
Drink Plenty of Water
With water composing 80% of the human body, it is paramount to meet your own individual needs of this essential nutrient. Unfortunately, there is no set amount of water we all should be consuming on a regular basis because we have varying degrees that influence our needs such as, age, gender, activity level and temperature levels, to list a few. Interestingly, there is NO science suggesting that 8-8 oz glasses of water a day is optimal so, let thirst be your guide.
Regular Exercise
An individualized exercise program designed to meet your specific needs is essential to becoming healthy and fit. A program that includes weight bearing exercises, yoga and Pilates movements and cardiovascular exercise is a good place to start. These activities will strengthen your muscles, joints and bones and increase your flexibility. Find activities that you enjoy doing like playing tennis, basketball or swimming so that you will be more inclined to exercise even when you don't want to.
Check Your Vitamin D Level
Until several years ago, a vitamin D deficiency meant an increase risk for bone related health issues like osteoporosis. However, a closer look at this fat soluble vitamin reveals that a shortage can have a dire effect on your health. In addition to bone health and calcium absorption, vitamin D helps the immune system function properly and prevent certain cancers, diabetes and heart disease. Great sources of vitamin D include: exposure to the sun, salmon, swordfish, cod liver oil and vitamin D supplements. Check with your healthcare provider to make sure you are receiving adequate amounts.
Keep Your Inflammatory Markers in Check
Most modern diseases that we see today are the result of chronic inflammation. The decisions that we make about our diet, exercise, sleep, stress and the toxins around us all contribute to our inflammation level. Chronic inflammation is a low grade response in your body for a long period of time. It has extended beyond the acute phase which normally occurs with "minor" ailments such as cuts, bruises and burns. Chronic inflammation sets in when the inflammation response from an acute ailment fails to shut off. Inflammation begins to harm healthy tissue and this initiates the disease process.
To help determine your level of inflammation, make sure you have these markers checked on a regular basis.
Elevated High-Sensitivity c-Reactive Protein (HS-CRP)
Elevated Blood Glucose
High Homocysteine Levels (an amino acid used by the body to make proteins)
Elevated Ferritin (a protein that stores iron)
Get Your Veggies On
Eating a regular healthy dose of vegetables is an easy way to improve your overall health. We all know the benefits of having vegetables well represented in our diet, but they are worth repeating. Veggies:
Help reduce heart disease, type 2 diabetes, cancer, dementia, stroke and arthritis.
Help reduce bloating in healthy guts (healthy gut bacteria), not in unhealthy ones.
Reduce the risk of premature death of any cause.
Help your skin look younger and more beautiful.
Let's Review In Pictures: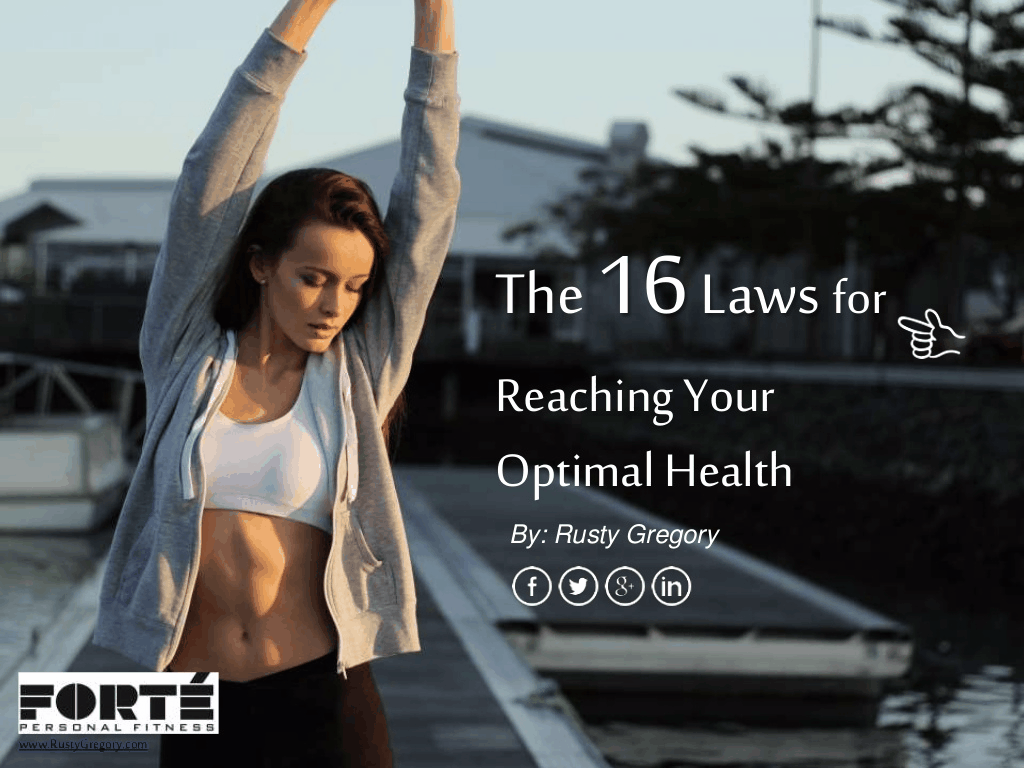 Note: The content in this article should not be used for medical advice, diagnosis or treatment. Consult with your healthcare provider about your specific health needs.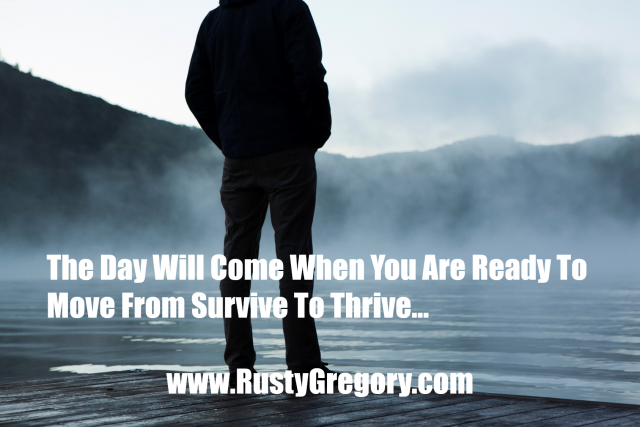 The 16 Laws for Reaching Your Optimal Health
The 16 Laws for Reaching Your Optimal Health as revealed by Austin personal trainer Rusty Gregory of Forte Fitness