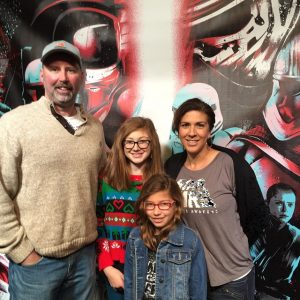 Rusty Gregory has significantly impacted my life.  Being a former athlete and current basketball trainer at Austin Youth Basketball, I knew how to "work out." I had not, however, come to a real picture of where my health was and how I could use exercise science and nutrition to positively impact my life and the impact I shared with others.  Here to the right is a picture… there are no shirt off pictures in 2015.  This is the best I have for an awkward "before" shot.
I began working out with Rusty in January of 2016.  Here are the bullet points of what we have achieved under his guidance and support.
I reduced pain in my sciatica prone back, neck, and knees by 30% in only two weeks thanks to a nutrition change he insisted I try.   This change allowed me to sleep and also to walk which accelerated the healing process.
40 lb weight loss in 12 months. 30 of it coming in the first 6 months.  Focus was not on the scale, but on embracing food as fuel, avoiding "dieting" and learning nutrition.
Rusty helped me to eliminate the emotional setbacks of "getting back in shape" and accepting injury as part of the inevitable process of getting older. Rusty does not accept this and won't let you either.  Mindset shifts are cool, but he backed it up with endless modifications to avoid injuries.  We exercised smart, safe, and then hard in that order.   Rusty has a Masters in Kinesiology and is a lifelong learner. I benefited from that knowledge and commitment.
Sleep and focus both improved due to having a plan I believed in. Trends and diets were thrown out and we had a clear plan personalized to me, my goals, and a timeline built on successful science, not sizzle.  There is no shortage of info out there and eliminating all of what might work and just following clear directions really had huge benefits of time and results.
My bodyfat percentage went from 25% to 15.4% and falling.

Awkward "After Shot"

My blood pressure went from 130 over 120 to 119 over 85.
My waist size went from 39-40 to 34. My waist size as a college basketball player.
At age 51, my range of motion increased by an estimated 30% and more in problem areas.
9 months after working with Rusty, I had a pain free day. I had been in pain so long, that I just accepted pain as part of my life.  To be 100% pain free was mentally transformational.  On a scale of 1-10 my days before Rusty were typically a 6-8 with 10 being the worst pain.  A year after Rusty, I have some zero pain days and some others in the 1-2 range.
For the first time in a long time, I don't avoid a mirror. Sure, there are things athletically I want to continue to turn the clock back on… but I like who I am.  I am returning to be an athlete rather than an invalid.
Rusty Gregory has my highest recommendation.  Period.  When you are sick and tired of being sick and tired… see Rusty.  Your health deserves this. Yes it is an investment of time and money.  But what are the costs in time and money if you don't take care of your health?  This Christmas was special.  For 2 years I could not hold up my then 7 and 8 year old without shearing neck pain.  She was probably 60lbs… and it killed me not to receive her hugs up in my arms.  This year we took a picture of me holding both my girls now heavier and older.  Almost 200 lbs.   No pain.  Thank you Rusty Gregory… you helped me change my life.   I hope 2017 brings health, happiness and love to all of your website readers.