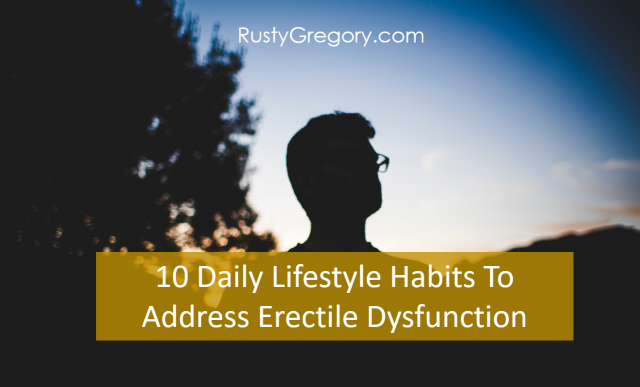 In my last article, 10 Ways to Boost Your Testosterone Levels Naturally, I discussed several natural ways to get your "motor" up and running again; libido tends to go as your testosterone levels go. As a follow up, I thought that an article on erectile functionality would be appropriate and timely.
I don't think a day passes without a conversation with one of my clients regarding the multitude of health benefits of positive lifestyle behaviors. If we treated our bodies the way they are supposed to be treated many of the health disorders seen today would be eradicated. One of those ailments, erectile dysfunction (ED), is certainly one of them. ED, or impotence, is the inability to generate an erection hard enough to sustain sexual activity to its completion and affects approximately 30 million men. Because of individual differences and multiple variables involved in a man's libido, it is extremely difficult to establish a normal level. Therefore, this article is designed to help you identify and maximize your current situation.
Although there are several modes of medical treatments for ED, none of which sound too arousing; surgery, implants, vacuum pumps, and medications. I don't know about you, but I'd rather approach it the all-natural way first. Whatever it takes, this stuff is mega-important, both for your overall health and for your sex life. Therefore, to properly address the issue of ED, it's important to understand its causes.
Causes:
Certain Medications – High blood pressure medications, antihistamines, and antidepressants among others can inhibit performance in the bedroom.
Unhealthy Diet – Food intake that leads to arterial blockage and/or low energy levels can make an erection difficult to obtain.
Relationship Problems – Relationship problems such as, poor communication, can lead to a reduction in sexual desire and an inability to generate an erection satisfactory for sexual activity.
Unmanaged Stress – Work, financial, or relationship stress can wreak havoc on the ability to become erect and perform intercourse adequately.
Early Onset of Cardiovascular Disease (Metabolic Syndrome) – Smaller arteries become blocked before larger ones indicating that arteries supplying blood for erections are occluded and can be a precursor to cardiovascular disease.
Excessive Alcohol – A reduction of blood flow to the penis and release of nitric oxide (temporary or situational ED) caused by excessive alcohol, will dampen the mood and make intercourse very difficult, if not impossible.
Recreational Drugs – Heroine, marijuana, cocaine, amphetamines, and barbiturates are just a few drug categories that can leave you feeling less than stimulated.
Certain Health Conditions – Parkinson's disease, Alzheimer's disease, brain or spinal cord injuries or surgeries, multiple sclerosis, and metabolic syndrome (high blood pressure, high blood sugar/insulin, obesity, heart disease, collectively or individually) are just a few health problems that can damage your erection-generating capabilities.
Smoking – Smoking damages veins and arteries and nicotine contracts those same veins and arteries leading to a restriction of blood flow necessary to create and maintain an erection.
Depression – A "disconnect" between the chemicals given off in the brain to the sex organs occurs during depression; a loss of interest in sex often ensues.
Inadequate Amount of Sleep – Sleep deprivation = a decrease in testosterone and venous and arterial constriction; enough said.
Low Testosterone Levels (Low T) – When combined with other ED risk factors involving blood flow restriction, low T levels can have a devastating effect on obtaining an erection. However, with no other ED risk factors, low T doesn't seem to create as much of a problem.
Fear of Intimacy – The fear of getting too emotionally close to another person can lead to ED. Past abuse (emotional, physical, sexual, and psychological) can also lead to issues with producing an erection.
Performance Anxiety – Men can become anxious about their ability to obtain and maintain an erection once they have "lost" an erection or two and meeting their partner's expectations. Whatever the cause, anxiety often creates a constriction in blood flow and loss of confidence in performance.
Traumatic Pelvic Injuries or Prostate Disease Treatments – Injuries leading to damaged nerves and blood vessels associated with erections can put shut-down erections quick.
As I do with most of the articles I write, I apply the Five Pillars of Health, diet, exercise, stress, sleep and environmental and household toxins / chemicals to the topic at hand. Why? Because so many of our modern diseases would be lessened or even eradicated if we regularly practiced the five pillars. Like with any other health-related issue, prevention is always the best treatment with ED. Let's look at each of the Five Pillars of Health and how they specifically influence erectile dysfunction.
Diet
Is there anything not affected by what you eat? Eating foods that contribute to vessel blockage are an erection no-no. Sugar, grains and industrial seed oils create an inflammatory environment in your body that sets the table for insufficient blood flow to your nether regions. Eliminating these items from your diet should be the first step you take in changing your diet.
The next step is to add nutrient-dense, organic, grass-fed, wild-caught, and pasture-raised real food to your daily intake. Unless you have an intolerance or allergy to foods that fit this description, they tend not to be inflammatory. Eliminating sugar, grains, and vegetable oils will help you lose excess body fat, another cause for erectile dysfunction. Some foods that assist in vasodilation of blood vessels and/or help increase testosterone include:
Spinach – magnesium that reduces blood vessel inflammation increasing blood flow;
Dark Chocolate – flavonoids to improve cardiovascular health;
Ginger – improves blood vessel health which increases blood flow;
Green Tea – catechins that fights free radicals and reduce blood vessel inflammation;
Salmon – the omega-3 fatty acids in salmon increase dopamine levels increasing blood flow;
Eggs – the choline in eggs activates the production of nitric oxide which relaxes blood vessel flow to the nether region;
Shiitake Mushrooms – a choline powerhouse;
Liver – jam-packed with zinc which helps prevent the conversion of testosterone to estrogen;
Grass-Fed Beef – loaded with vitamin B12, a vitamin, when deficient has been linked to ED; and
Almonds and Broccoli – great sources of vitamin E that improves blood flow throughout the body.
Exercise
As if you needed another reason to exercise, it can jumpstart the nether regions as quick as anything. The key here is consistency; an ongoing comprehensive exercise program consisting of different modalities will keep interest high and physical fitness benefits extensive as they relate to warding off ED.
Cardiovascular Training – Regular cardiovascular training reduces stress, improves circulation throughout the body, and boosts energy levels. Any one of these benefits can be enough to restore proper sexual function, but all three are sure to have a profound affect.
Resistance Training – A progressive resistance training program reduces stress, improves circulation, and increases one's self-confidence and self-image. Self-assurance and its positive mindset alone may produce the needed impetus to restart the emotional and psychological hit caused by ED.
Kegel Exercises – Kegels are exercises that strengthen the muscles of the pelvic floor and they're not just for women anymore. Stopping your stream of urination will help you identify the muscles you need to strengthen. Tense these muscles at different times of the day (in different body positions) to achieve the desired effect. A 5-second hold for 8-10 repetitions 3 or 4 times a day should do the trick.
Yoga – A reduction of tension and stress and an improvement in breathing and relaxation that is brought out with a regular yoga workout program goes a long way to combat the mind-body issues associated with ED. Additionally, several poses improve blood circulation specifically to the pelvic area making yoga a great way to eliminate any ED issues.
Stress
It's a foregone conclusion that managing stress is imperative to sexual health; as the mind goes, so too goes the body. Here are a few stress management techniques that can help you gain control of your stress and help keep cortisol levels at bay. These activities and other de-stressful practices require regular participation to see consistent benefits.
Exercise – The endorphins secreted during exercise and the overall muscular tension release contribute to the psychological and physiological reduction in stress. Also, an increase in blood flow and respiration leads to a more positive outlook on life.
Write in a Gratitude Journal – Maintaining a grateful frame of mind increases emotional well-being, encourages a more positive mood, and improves overall life satisfaction. Because of this, people tend to appreciate relationships and life's circumstances more. Typically, this lends itself to a healthier, happier, and more purpose-driven life. So, try writing three things you are grateful for every day, you may be surprised as to how much it lightens your spirit.
Mindfulness Meditation – Having a non-judgmental awareness in the present moment increases your appreciation of life. As you practice the art of mindfulness, you will notice a decrease in blood pressure, anger, sadness, and even fear. The key is to remain in the moment and acknowledge judgments but set them aside, don't focus on them.
Deep Breathing Exercises – Sitting in a comfortable chair wearing loose fitting clothes, mentally relax any tension found throughout your body. Take 10 breaths (filling your lungs) with each inhale slightly longer than the one before. Maintain focus on your breathing throughout. Add a second to each breath in duration, i.e. breath number 1, 1 second; breath number 2, 2 seconds, and so on. Continue with a slow exhale on each breath and a judgment-free approach to your thoughts and feelings.
Take a Warm Bath – A terrific way to release tension and relax after a stressful day.
Listen to Calming Music – Music can relax you or get you amped up. Calming music can put a nice touch on the end of a stressful day.
Engage in Something Fun Everyday – A momentary "escape" from a stressful day can lighten your mood and improve your outlook. This can generate new ideas and opportunities to address your stress.
Connect with Others – Communicating with other people who you perceive are empathetic to your plight is the most calming thing you can do. Connecting with a good listener can provide you with the peace needed in the moment.
Massage – A massage soothes like a warm bath, but its ability to diminish aches and pains can reach beyond the scope of a bath taking relaxation to a whole other level.
Sleep
Sleep deprivation elevates cortisol and testosterone production, a double whammy. Most testosterone is produced during the REM stage of sleep. The perfect storm of ED is created by skipping out on sleep. If the reduction in testosterone doesn't get it done, then the packing on of those unwanted pounds from the increase in cortisol levels certainly will. Sleep apnea has also been shown to effect blood flow to the nether region leading to ED. Due to its interruption of the sleep process, it too can depress testosterone levels furthering the ED problem.
Here are a few tips to help you get that good night sleep needed for proper sexual functioning. Also, check with your health care provider for additional information on this topic.
Turn off all your electronic devises at least an hour before bedtime. Remove as much blue light as possible.
Set the thermostat between 64 and 68 degrees.
Your bed should be for sex and sleep, not a work-station, man-cave, or internet surfing platform.
Establish a routine bedtime and waking time.
Avoid caffeine late in the day.
Limit alcohol consumption.
Avoid foods that contain theobromine (dark chocolate, cocoa powder, chocolate candy) late at night. Theobromine has caffeine-like properties.
A regular exercise program early in the day can help produce the necessary melatonin for a great night's sleep.
Turn lights and sounds down as the evening progresses to produce a calming environment for sleeping.
A CPAP (Continuous Positive Airway Pressure) machine can help with sleep apnea issues.
Environmental and Household Toxins / Chemicals
We all know someone who is otherwise healthy, but "mysteriously" has a life-threatening heart attack, is diagnosed with cancer or some rare disease, or has sexual dysfunction. Well, a toxin in your environment could be the culprit. Each one of us is polluted with hundreds of inorganic compounds throughout our lives, whether we have pick them up through living in a toxic environment or if they have been passed down to us from mother to child. Toxins are capable of not only wreaking havoc on your health immediately (in large doses) but also in smaller doses over time. Although it's impossible to eliminate all toxins you could possibly encounter, you can at least improve your own living environment.
Here are some to look out for when purchasing products for your home or office to guard against ED specifically.
Bisphenol-A (BPA) is a chemical found in hard plastics. It is believed that BPA enters the body and mimics estrogen interfering with male sex hormones.
Triclosan found in antibacterial soap may disrupt hormones, i.e. lower testosterone.
Toxic Metals that are found in tap water, gas fumes, car exhaust, pesticides, solvents, oestrogen based chemicals, pollution, radiation, benzene, boron, mercury, lead, copper and nickel can lead to ED.
Certain Occupations can pose higher risks of prostate cancer such as, painters, factory workers where BPA and other similar chemicals are produced, farmers and tire plant workers which leads to ED.
Cellphones worn on the waist or carried in a pants pocket may contribute to ED.
With so many health maladies directly related to the way we live our lives, it's no wonder why we have a health crisis in this country. Identifying the offending causes and how to make healthy lifestyle choices will go a long way in improving our chances of not falling victim to the diseases brought on by a lifestyle of care-free living.
Disclaimer: The purpose of this article is to share Rusty Gregory's experience, education and research on the topic at hand. The contents of this article are the opinions of Mr. Gregory and should not be used for medical advice, diagnosis or treatment. Consult with your licensed physician or healthcare provider about your specific health needs. Be smart with the lifestyle choices you make and all your health-related decisions.