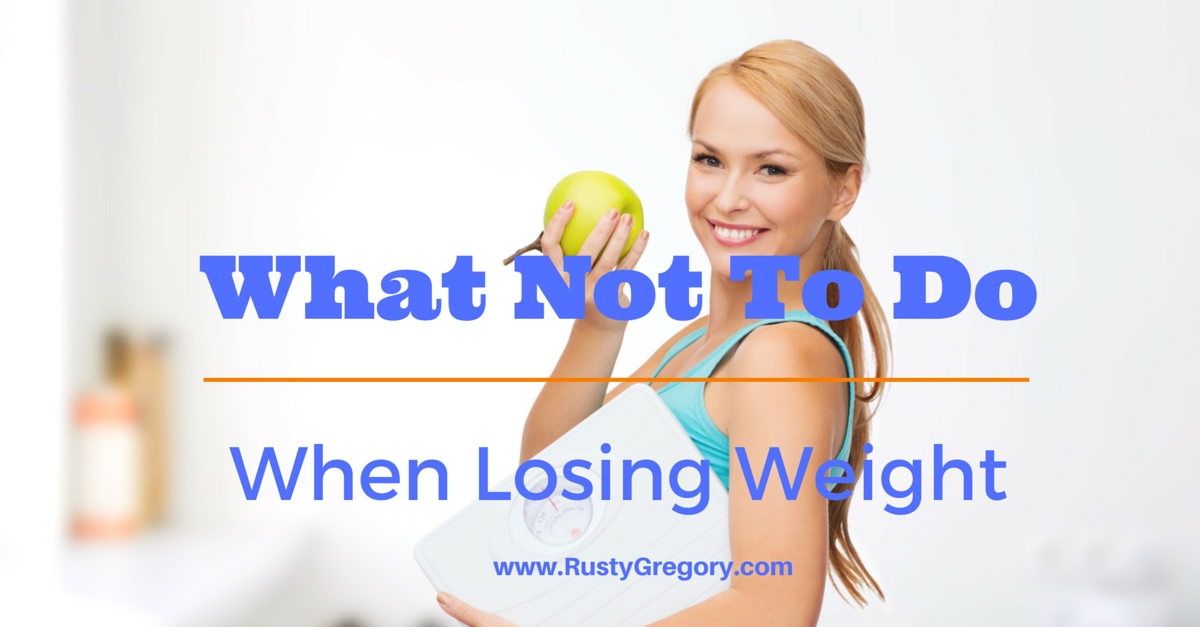 There are few things more confusing, distorted and in some cases, downright ridiculous than weight loss programs promising everything this side of eternity. How can so many programs guarantee success, with good health a bi-product, when they differ so significantly in their approach? Unfortunately, the majority of diets restrict caloric intake to the point where the dieter can only do it for so long, then a voracious appetite ensues; this is because the dieter is never satisfied. I call this the diet boomerang effect. Eventually, this reduction in calories will come back to haunt you, sometimes in the form of gaining all of the weight you lost back, and then some. When this happens the dieter's weight gain is primarily fat do to the reduction in metabolism that took place during the restriction of calories.
The following eight mistakes are all too common with people who are trying to lose weight. Either through misinformation or not carefully planning your program out from the beginning, the challenging task of losing weight can become an exercise in futility if proper measures are not taken. A resulting failed plan can have dire effects on your health and future weight loss attempts. Consider using this list of setbacks in designing your program from a different standpoint. Falling short on any one or more of these pitfalls can prevent you from being successful with your program.
Avoid Healing Your Gut
One of the hottest topics in medical research is the human microbiome, the microbial ecosystem located in the small and large intestines. Having healthy gut bacteria is essential for sustainable weight loss and it all starts with your diet. The bacteria in your gut account for about 3 pounds and outnumber your DNA 10:1; making it a significant player in your weight and overall health. The bacteria reflect the diet that you consume. Inflammatory foods such as sugar, industrial seed oils and refined grains not only create chronic inflammation over time, but make weight loss very difficult even causing weight gain. Polyunsaturated fats with their omega-6 fatty acids should be greatly reduced or eliminated and replaced with healthier fats that are omega-3 fatty acid rich. Healthy fats include grass-fed beef and butter, wild-caught fish, coconut oil and avocados. Fermented foods such as kefir, sauerkraut, kimchi and kombucha and fiber rich fruits and vegetables are great ways to strengthen the microbiome ecosystem in your gut.
Other factors influencing your microbiome include exercise, sleep deprivation, stress, antibiotic use and bacterial infections. Research has shown that a regular exercise program promotes a greater variety of bugs in your gut which is much healthier than lacking bacteria diversity. This variety has demonstrated a reduction in inflammation and obesity. Getting 7-9 hours of sleep a night and managing your stress regularly will promote a healthy balance of your microbiome. It may be necessary to supplement your diet with probiotics while taking antibiotics or dealing with a bacterial infection. Consult your healthcare provider to find out what is best for your situation.
Over-Exercise
An over-zealous approach to your weight loss program can easily lead to exercising too much, especially at the beginning. Inevitably, this will destroy all of your weight loss efforts if safeguards are not in place. Over-exercising can lead to over-training, burnout, unmet goals and expectations and overuse injuries. Also, have you ever heard of working up an appetite?  If you are consuming a low-fat, high-carbohydrate diet, your ability to maintain a lower calorie diet will eventually backfire and your hunger will be too hard to resist. Hunger is your body crying out for calories it thinks it needs. This sensation is driven by grehlin, the hunger hormone, and leptin, the satiety hormone. Exercise generates the need for more calories so, keeping these hormones in check is essential for not consuming too many calories.
Wait for Positive Thoughts to Drive Your Action
Start with taking positive action right now. It is far more effective to play off of your feelings rather than your thoughts in regards to your behavior. You are more prone to act in a certain way based on how you feel. That same action will produce the same feeling that leads you to take that action in the first place. For example, if you are in a sour mood, smile at yourself in the mirror. Before long, you will feel a greater sense of happiness. So, smiling leads to happiness which leads to smiling. I call this the smile in the mirror approach. Act like the person you want to be. Studies have indicated that by making a fist and tensing your muscles prior to eating, you will steer clear of eating unhealthy foods and chose healthier options. This muscle tension appears to increase determination.
Misunderstand the Entire Process
Initially, most people experience weight loss when they first begin their program. This is usually due to water loss which generally precedes actual weight loss. Once past the water loss phase, the process typically experiences its fair share of ups, downs and plateaus. When things grow stagnate and the scales won't budge, attitudes often reflect that to the point of quitting the program. Always see the process through. Stay determined knowing what you are doing will have great payoff over time. This is best done by setting specific, measurable, action-based, realistic and timely goals and having a friend hold you accountable for meeting those goals. Also, associating with a group of people that are of like-mind and have the same goals as you will help keep you on the straight and narrow when your goals get severely challenged.
Approach it as a "Have to"
Nothing makes a task more miserable than having to or being told to do it; this is sure to take drudgery to a whole nutha' level. This certainly doesn't provide an environment conducive for sustainability of that task as well. So, it should come as no surprise that creating an environment conducive to a "get to" approach, changes your attitude away from the grind your weight loss program has become. Making the lifestyle changes necessary to lose weight can be daunting and overwhelming. It means forming new habits and routines, shopping at new stores, even building new relationships, but as overwhelming and challenging as it appears, nothing compares to how great you will feel once you reach your goals.
Hone in on One Approach
We're all similar in some ways, but different in others. Some people like to exercise in a group setting while others like to exercise alone. Shifting your food intake from the standard American diet to a nutrient-dense, real food diet can be a challenge if others in your household aren't willing to jump on board with you. Too many times people go on vacation, have out-of-town guests or the holidays roll around and their weight loss program completely falls apart. This is a time to have a plan B in place because your normal routine will most definitely be interrupted. Whatever the circumstances in which you find yourself, be willing to learn new things and adapt to the environment around you in order to meet your needs and complete your goals. One thing is certain you must enjoy the process in order for it to be sustainable. Find what works best for you and go with it!
Focus Just on Weight Loss
To focus on just the weight loss aspect of your program would be selling yourself way short of what your program should entail and seldom leads to sustained weight loss. One of the reasons why most weight loss programs don't succeed long term is because they don't include everything necessary for good health. The totality of your program should include nutrition, exercise, stress management, sleep and the avoidance, to the extent possible, to exposure to environmental toxins, both inside and outside of your home. To some degree or another, all of these factors influence how certain genes are expressed. A healthy weight loss program ultimately promotes a healthy outcome by optimizing all of the areas of health that you have control over. This generates an overall sense of well being, not just shedding some quick pounds before beach season or your next high school reunion.
Eat Less, Exercise More
We have been told for years that in order to lose weight, calorie expenditure needs to exceed calorie consumption. So, exercise which speeds the calorie expenditure process became the method of weight loss choice; just eat less, exercise more and lose weight. This same mantra teaches a calorie is a calorie and that overweight and obese people are gluttons and sloths; they eat too much and are lazy. The problem with this is that it is simply not true. The body is not equipped to go into starvation mode and stay there; it is not sustainable. Inevitably, the temptation becomes too great when hunger arrives and you give in by eating more than when you started the reduced calorie diet.
What we know about weight gain is that sugar is converted to glucose in the body. This signals a release of the hormone insulin by the pancreas. Insulin takes the glucose to both muscle and fat cells to be stored for later use. Over time this adds up and fat cells become bigger and bigger leading to greater weight gain.
At the end of the day, eliminating processed foods that are full of sugar and grains which drive blood sugar and insulin levels and weight gain and industrial seed oils that contribute to inflammation and make weight loss very difficult, will go a long way in helping you reach your health and weight loss goals. Gathering as much information as you can about the weight loss process and creating a flexible plan of action that will work for you will help you stay the course. A deliberate approach will promote your program becoming a lifestyle rather than remaining a diet and is essential to avoiding program-ending mistakes.  I am happy to serve as your Austin personal trainer if you want an expert guide along the way.
Note: The content in this article should not be used for medical advice, diagnosis or treatment. Consult with your licensed physician or healthcare provider about your specific health needs.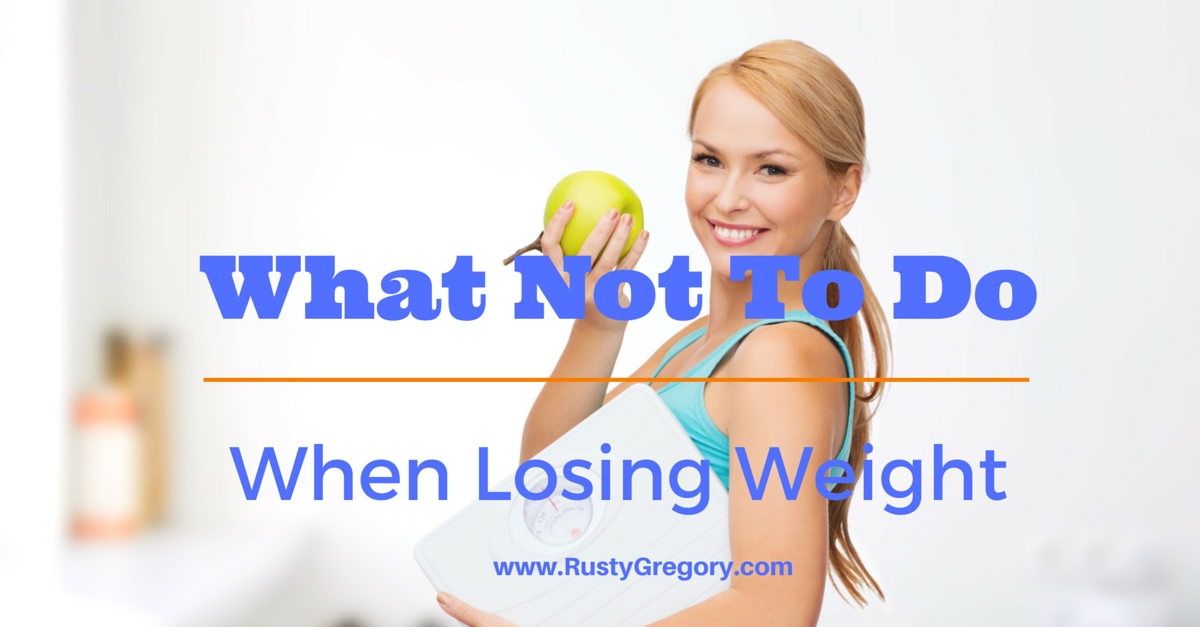 What Not To Do While Losing Weight
Austin personal trainer and author Rusty Gregory shares what not to do while losing weight and itemizes 13 specific behaviors to avoid.