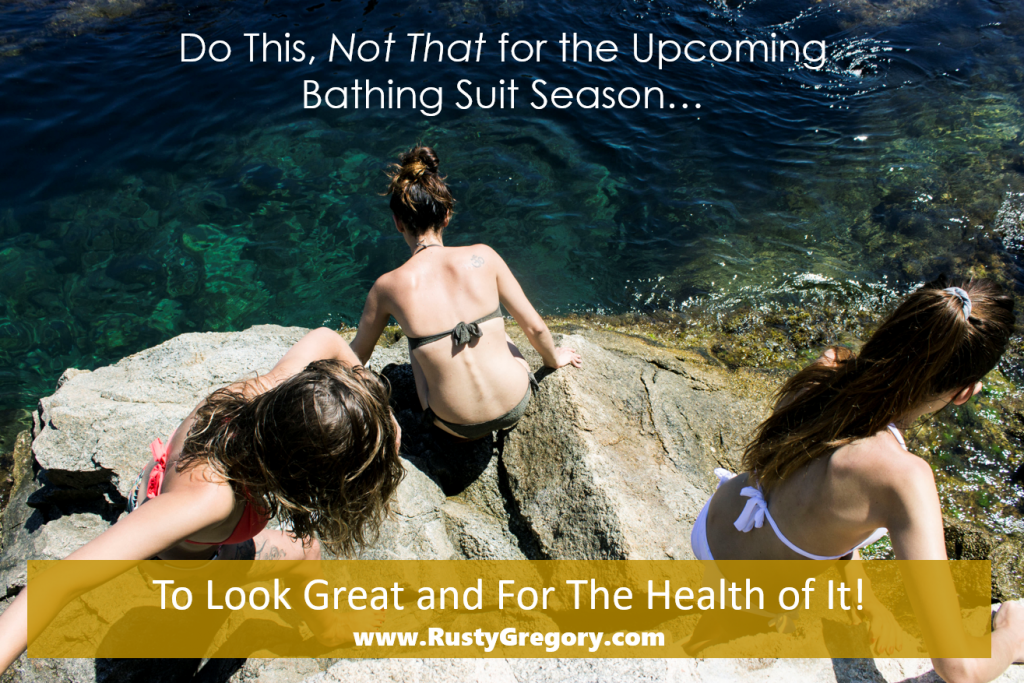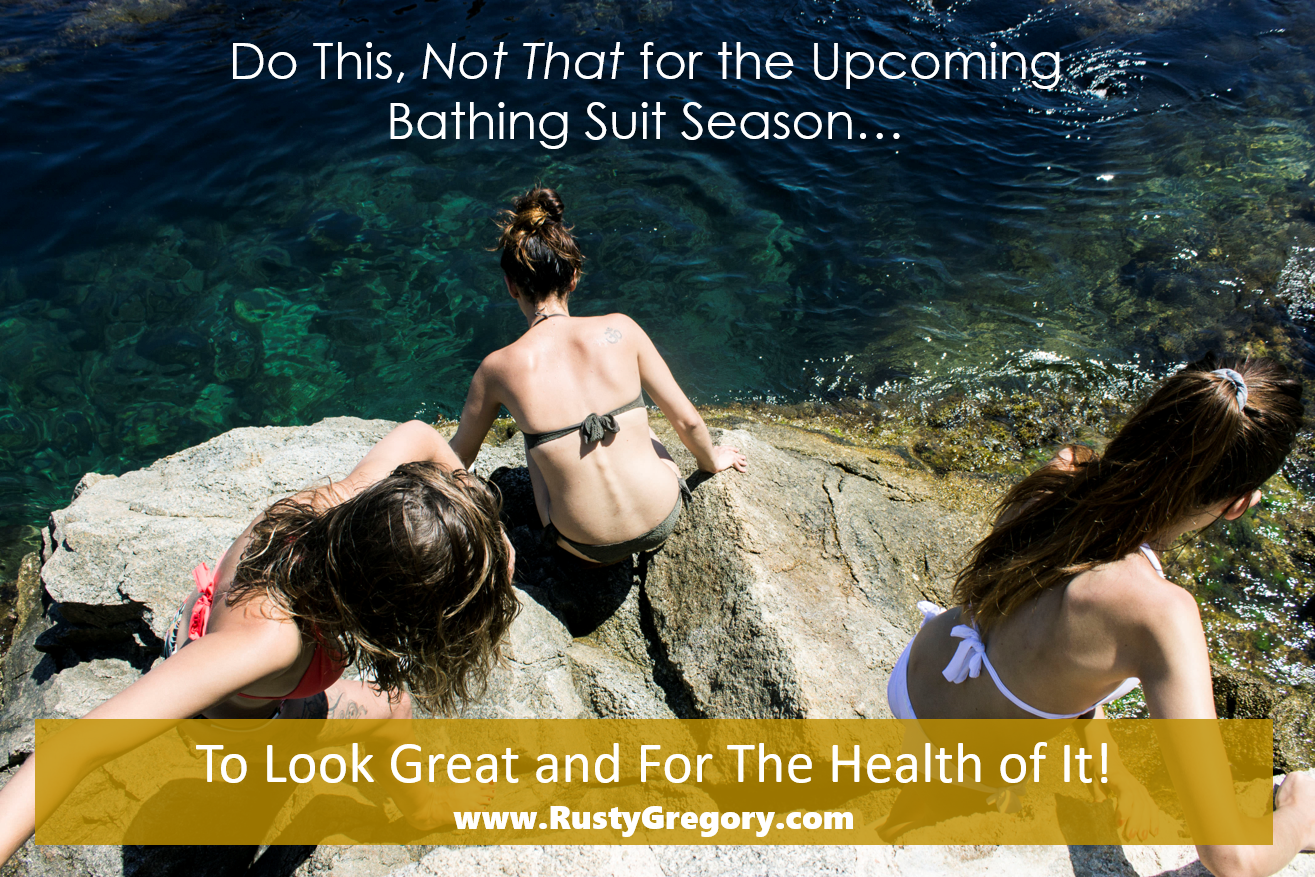 So, it's Bathing Suit Season (BSS) eve and the panic has set in. Ready or not, here it comes and if you haven't prepared for it, it certainly will intimidate you again this year. What will you do this year that you haven't done in years past to make this BSS less dreadful? You ask yourself, "Can I get into last year's suit," and "If I can, how am I going to look?" Well, to look your best, it's probably best that you feel your best as well.
I know this sounds as though I am speaking to women only, but I'm not. This applies to both men and women because at the core of wanting to look great naked, I mean in a bathing suit, is your health; and that crosses the gender line. By following this list of Dos and Do Nots you will display great health by how you look and feel.
Do Get Ample Sleep
The importance of sleep on your health has been well documented. Anything less than 7-9 hours of sleep a night will contribute to insulin resistance, the precursor to type II diabetes, heart disease, and cancer. Sleep deprivation leads to always feeling hungry, increased cortisol levels, decreased ability to focus and pay attention, weight gain, memory loss, a roller coaster of emotions, a suppression of immune function and an increased risk of falling asleep at the wheel or operating other heavy machinery. Obviously, these symptoms adversely affect your health and beauty. Not many people exude the beauty they would like when they experience these and other sleep deprived signs. A lack of sleep also creates bags under your eyes and a sunken eye look, elevates estrogen levels and a decrease in collagen production leading to increases in breakouts and older looking skin, respectively; hence, the term, beauty sleep. Regularly meeting your sleep needs will create a vibrant energy and zeal towards life that most find very attractive.
Do Not Drink Alcohol
Not only can alcohol consumption disrupt your sleep (see above), but excessive amounts can lead to cirrhosis of the liver, alcoholic fatty liver disease, and liver, mouth, esophagus, throat, and breast cancer. It can also suppress your immune system making you an easy target for other illnesses. Except for eating sugar, drinking alcohol does more to pack on the pounds than any other dietary misstep. Alcohol can also cause dehydration leaving you susceptible to the failure of basic body functions such as, joint lubrication, the removal of toxins from your skin, and proper digestion and elimination. This effect on your skin can leave you looking much older and worn down. Dehydration will also cause the dilation of capillaries under your eyes which will make the dark circles under your eyes more pronounced. Doesn't exactly portray the sexy look you're looking for this BSS, does it? Alcohol is clearly not the look-good, feel-good, be-healthy elixir it promises to be.
Do Cardio Exercise
Cardio exercise, or aerobic exercise, has many health benefits. It is a great stress and anxiety reducer, strengthens the immune system by increasing your white blood cell count, improves systemic circulation, makes your cardio-respiratory system more efficient, greater sense of wellbeing, and helps stimulate better brain function and cognition. Cardio makes us look very attractive as well. It sparks an energy, healthful sleep routine and self-confidence that other lifestyle behaviors simply cannot. Its anti-inflammatory effect can even help clear up skin blemishes such as acne. Aerobic exercise creates greater blood flow to the skin bringing healing nutrients to sun and environmentally polluted damaged skin. This added blood flow can also enhance collagen production, delaying wrinkles. All of this can give your skin a more youthful look that looks great come BSS.
Do Not Eat Sugar
On average, Americans consume nearly 30 teaspoons of sugar a day. This astronomical amount has led to an epidemic of various health issues. Fructose, which makes up 50% of sucrose (table sugar) and 55% of high fructose corn syrup, is metabolized by the liver encouraging the storage of fat. Glucose, the other half of sucrose and 45% of high fructose corn syrup, is stored in fat and muscle cells to be used as energy later. Fructose increases uric acid which leads to chronic inflammation, the foundation of several health problems per many health experts. Some of these health maladies include obesity, nonalcoholic fatty liver disease, insulin resistance, and type II diabetes, just to list just a few. Our microbiome, the gut's bacterial ecosystem, helps to regulate our immune system, keep inflammation at bay, reduce leaky gut, maintain our nutrition absorption and control our blood sugar. Sugar feeds the bad bacteria in our gut and interrupts the overall proper functioning of the microbiome, leading to health complications, even poorer physical fitness.
Sugar's effect on the country's waistline is well documented, but did you know that it creates a phenomenon call "sugar face?" In short, sugar breaks down collagen, a protein that serves as connective tissue in the skin producing a more youthful look, and increases the size of your pores (by increasing testosterone) giving you a more rugged, aged look. Sugar's dehydrating effect increases oil production leading inevitably to breakouts.
Do Lift Weights
The benefits of weight lifting have long since been known. Here is a list of just a few ways it promotes good health:
Prevents Osteoporosis
Helps Prevent Falls
Fights Depression
Improves Glucose Tolerance
Helps Lower Risk of Cardiovascular Disease
Reduces Inflammation
Lowers the Risk of Cancer
Alleviates Aches and Pains
Improves Sleep
Helps Lower Blood Pressure
Although these are reasons enough to get off the couch and start throwin' some steel, it certainly not limited to this list. When we practice a healthy lifestyle, we are more likely to engage in other healthy behaviors as well. For example, weight training can propel us into eating healthy, managing our stress, and getting ample sleep. Unfortunately, the opposite is also true; smokers tend to be sedentary and eat less healthy.
Losing weight by changing your diet alone creates a smaller shape of what you already are; if you are pear shaped, then you will probably just become a smaller pear. It takes weight training to change your body shape; the more muscle added to your frame, the greater the transformation. Plus, muscle just looks way better. This can have a profound effect on how you look in that new bathing suite you've been waiting to show off.
Do Not Eat Foods That Cause Bloating
Almost 1/3 of Americans experience bloating, an expansion or swelling of the belly due to air. Not only do bloat-causing foods create gastric distress and discomfort, it can also be quite unsightly. Here is a list of some of the worst offending foods and types of foods you may want to stay away from if you are prone to gastric issues.
FODMAPS (Fermentable, Oligosaccharides, Disaccharides, Monosaccharides, And Polyols). These are poorly absorbed small-chain carbohydrates in the small intestine that remain in contact until they reach the large intestine, where they are fermented by bacteria and attract water causing gastric distress. Here is a list of foods in which you may want to steer clear http://www.ibsdiets.org/fodmap-diet/fodmap-food-list/.
There is good reason the saying, "Beans, beans, the magical fruit, the more you eat, the more you …" was created. Soaking beans overnight can make them more digestible and less disruptive to your gut by reducing anti-nutrient (phytates and lectins) activity.
Gluten, which is found in wheat, barley, and rye. Instead, ask for a gluten-free menu or don't use products that contain gluten when cooking.
Dairy, if you are lactose intolerant. Instead, butter and cream can be okay with some people who have problems with dairy. Also, coconut and almond milk tend to be okay with people who are lactose intolerant.
Sugar alcohols can wreak havoc on your gut causing bloating, especially xylitol and sorbitol. Erythritol tends to be easier to digest if you must eat it.
Beer… Enough said!
Broccoli and cabbage. Cooking these and other vegetables can make them easier to digest so don't give them up just yet.
An apple a day doesn't keep the bloating away. Try berries (blueberries, blackberries, raspberries, strawberries) where the sugar absorption affects the gut less due to its fiber content.
Avoiding the foods that create the unattractive bloating look will also make you "feel" better in your bathing suite. Nothing is worse than a bathing suit that no longer fits.
Do "Pre-Tan"
Pre-tanning before you hit the beach or pool-side can help prevent vacation-killing, cancer-causing sunburns. You only need a 10-15 minute, slight pink generating stay in the sun during midday to create the much needed UVB rays from the sun to produce vitamin D. As you get darker with subsequent pre-tanning "sessions," less and less vitamin D is being absorbed. Vitamin D regulates the immune system and neuromuscular system as well as, helps with calcium absorption. Although there are plenty of concerns with vitamin D deficiencies (cancer, heart attack, diabetes, autoimmune diseases), there are concerns with vitamin D toxicity as well. Some of these problems include strokes, heart attacks, kidney stones, diarrhea, and vomiting.
If you are entering the BSS pale from winter hibernation, you won't be able to stay outside long without the risk of getting a sunburn. It's best to pre-tan before the BSS so you don't have to miss out on any of the fun. Any way you look at it, it's not very attractive to be white as a sheet or red as a lobster.
Do Not Use Chemically-Laden Sunblock
The largest human organ is the skin. Whatever creams and lotions that we apply to it can have a profound effect on our health. Unfortunately, we turn to various sunscreens to protect us from the sun's harmful rays only to absorb toxic chemicals from the products we are told will protect us. Here are a few chemicals and their effects that are frequently found in sunscreens that are best avoided.
Oxybenzone – a hormone disruptor and cell damager that can lead to skin cancer;
Butyl-Methdiebenzoylmethane – creates a free radical environment in your body;
Octinoxate – a hormone disruptor that effects thyroid function;
Retinyl Palmitate – a carcinogen; and
Parabens – have been deemed xenoestrogenic – an estrogen disruptor found in malignant breast tumors.
One of the most harmful effects of sunscreens is that it prevents the production of vitamin D. The deficiency that this can cause can lead to all sorts of problems, such as cancer, poor bone health and immune function, dementia and other maladies. The best and safest sun protector is always long pants, a long sleeve shirt, and a hat. Staying indoors and only getting the sunlight you need for adequate vitamin D production is ideal. However, part of enjoying life is spending time at the pool, beach, baseball game, or amusement park; because of this, precautions must be taken. The Environmental Working Group has additional healthy sunscreen ideas here to better protect yourself from the sun.
Do Stay Hydrated
Although, maintaining hydration is one of the healthiest and easiest things you can do for good health, complicated health issues can occur when hydration levels drop below the acceptable line. Water makes up 60% of the adult human body and is essential for proper functioning. When 1-2% of that water is lost, thirst follows. With greater losses, signs of dehydration begin to manifest. Depending on its severity, dehydration can lead to:
Muscle Cramps
Constipation
Kidney Stones
Headaches
Blood Clots
Drop in Cognitive Function
Loss of Energy
Rapid Heart Beat
Mood Changes
Death
You're at risk for dehydration if you:
Are diabetic – your body tries to rid itself of glucose through excessive urination;
Sweat excessively;
Are experiencing PMS – estrogen and progesterone influence hydration levels;
Are elderly, an infant, or a child;
Are taking certain medications;
Are vomiting, having diarrhea, or a fever; and
Drink alcohol excessively
One way to determine if you are dehydrated is to look at your urine. If it is pale yellow or the color of water you're probably hydrated. If it's yellow or orange, you are dehydrated and need water immediately. Another way to tell if you're dehydrated is to pinch the skin on the back of your hand. If it returns to its normal position within a second or two, you are more than likely hydrated. If your skin stays in a pinched position, you need water. Although there is no science behind the drinking of 8-8 oz. glasses of water a day theory, it is a pretty good rule of thumb to keep you mindful of how much water you are drinking.
Chronic dehydration takes its toll on your looks as well. Dry skin, wrinkles, and sunken eyes probably won't win you that much coveted upcoming bikini or Speedo bathing suit competition. Staying hydrated will help keep your skin look fuller, younger, and healthier.
Do Not Drink Sodas
One of the worst things you can do for your health is drink sodas. Its blood sugar, insulin raising affects have the potential of destroying your health. Many experts credit these sugary drinks to being one of the primary culprits of our obesity and chronic disease epidemics that we see today. As mentioned earlier, sucrose, table sugar, is made up of 50% glucose, 50% fructose. Glucose is burned up relatively quickly whereas, fructose is sent directly to the liver and store as fat. It is believed that this is the beginning of insulin resistance which ultimately leads to metabolic syndrome, diabetes, and heart disease. Sodas contain High Fructose Corn Syrup which is comprised of 45% glucose, 55% fructose. This makes sodas sweeter and even scarier for your health.
See the above section on sugar for soda's effects on your skin. Suffice it to say, soda's inflammatory effects can not only create skin problems, but will exacerbate problems that already exist. This can lead to a more aging looking skin; not a look most people strive for during BSS.
Disclaimer: The purpose of this article is to share Rusty Gregory's experience, education and research on the topic at hand. The contents of this article are the opinions of Mr. Gregory and should not be used for medical advice, diagnosis or treatment. Consult with your licensed physician or healthcare provider about your specific health needs. Be smart with the lifestyle choices you make and all your health-related decisions.