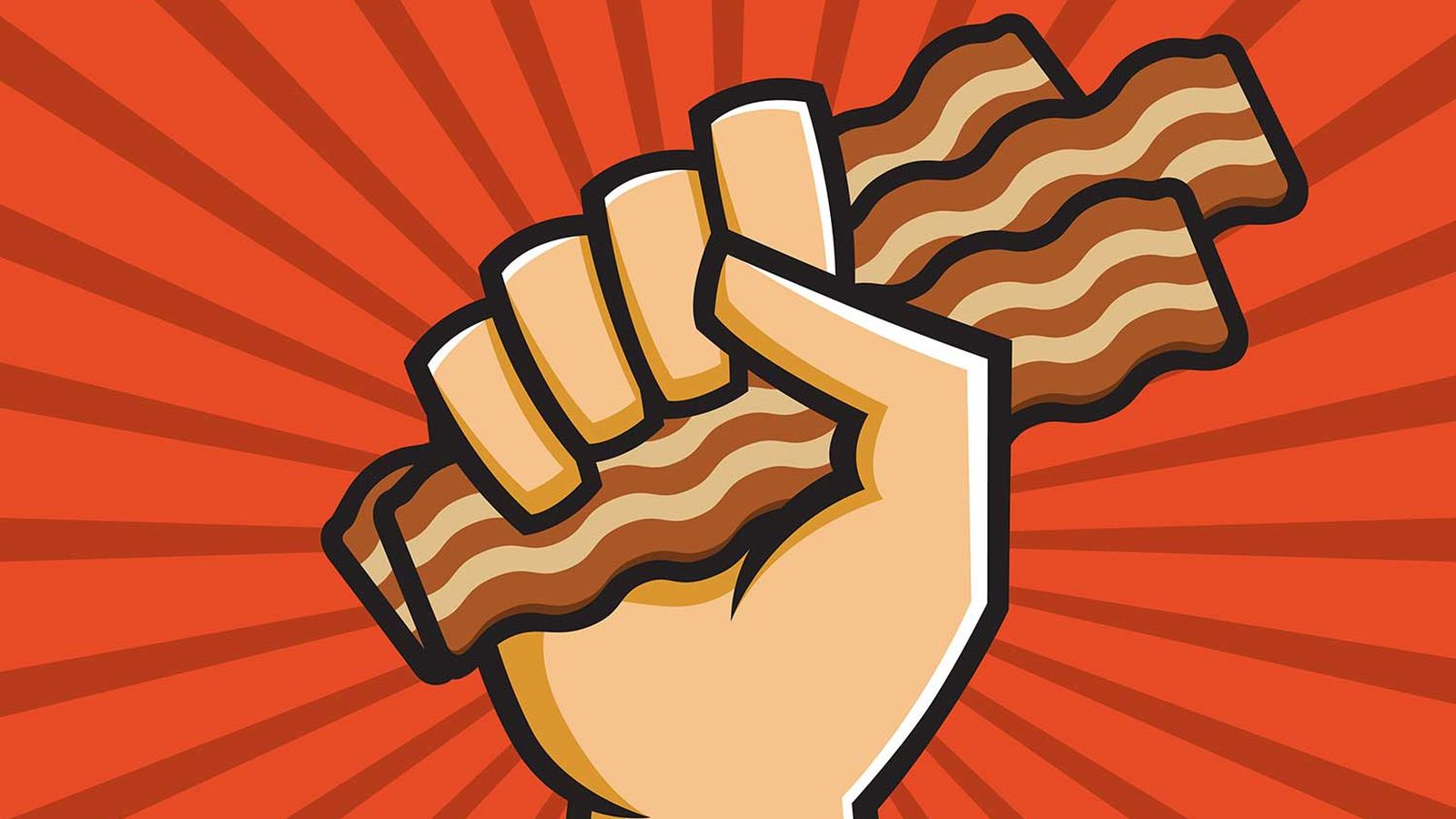 If you have read any of my articles, you know that I am a fervid believer in the organic, grass-fed, wild-caught, nutrient-dense, real food way of eating. But, I wanted to write about America's love affair with quite possibly the greatest food this planet has ever experienced … BACON! Let's face it there are two types of people in this world … bacon-lovers and liars. The bacon craze, or mania as it is often called, that has hit the country over the last twenty years, is an enthusiastic zeal for all things bacon.
Carelessly, many people purchase bacon not realizing they are not maximizing their experience. The following information will draw awareness to this very issue and help make your bacon decision much easier or more confusing depending upon how you look at it. There are several things to consider before consuming the best bacon available (taste and healthfulness). Let's take a look at what makes bacon great, its nutritional content, great taste, the curing process, how to best cook it and what to look for when bacon shopping.
Did you know that International Bacon Day is an unofficial holiday? It occurs every Saturday before Labor Day.
Nutritional Content of Bacon. How many times have you heard, "If it tastes good, it can't be good for you?" According to this, any food that is delicious and contains any amount of fat should be condemned at all cost by our sugar-loving, fat-phobic, processed food-adoring conventional wisdom. Unfortunately, it is a total disconnect from what is truly tasteful and what our body really wants … meeting our body's nutritional needs. Processed foods have been engineered such that it has changed how and what we view as delicious, oftentimes, leaving us nutritionally deficient.
Bacon comes from the pork belly of a pig. That said, fat is its most valuable nutritional asset. The following information is what makes bacon high on our body's "to-do list." Uncured, naturally-fed, pasture-raised pigs produce the healthiest meat. These happy pigs generate bacon that provides
a generous portion of B-vitamins;
good source of vitamin D;
animal protein which is of higher quality than plant protein;
50% monounsaturated fat (which contains oleic acid – the same fat found in olive oil and aids in lowering inflammation);
40% saturated fat (we now know that saturated fat isn't the heart disease demon we once though it was);
the 10% not-so-healthy polyunsaturated fat (PUFA's – high in Omega-6 fats, but if you limit other Omega-6 fats in your diet you should be okay);
its low-carb, high-fat composition helps keep insulin levels low and hunger at bay.
Pigs raised in concentrated animal feeding operations (CAFO), are typically fed soy, corn and other grains which produce high levels of Omega-6 fatty acids in the bacon. This promotes inflammation and if done long enough with other unhealthy foods, chronic inflammation and disease. Their confined living quarters also create a stress on the animals that generates less nutritional products with their meat. These feeding operations also produce pork that is contaminated with bacteria that leads to disease. Oftentimes, these bacteria are resistant to antibiotics used in treating infected humans.
Did you know that bacon can be made from turkey, goat, beef, lamb and chicken meat although, pork is the most popular?
The Curing Process of Bacon. Curing is done as a preservation method used to ward off meat damaging bacteria by using salt, sugar and nitrates. Bacon is "uncured," dry cured (salt) or wet cured (brined). First, uncured bacon can be a bit misleading in that it implies that the bacon is nitrate-free. However, celery salt is typically used on uncured bacon which releases sodium nitrite and nitrates anyway. So, why eat uncured bacon? Well, the curing process adds more artificial ingredients and sugar to the bacon which won't benefit your health under any circumstances.
Second, dry cured bacon is bacon that has been typically rubbed with salt, sugar, Prague powder and sometimes black pepper (and other spices) for flavoring. Food manufacturers and homemade recipes may differ in the method and ingredients used. After the meat has been rubbed, it is refrigerated for 3-4 days. Then, the cure is reapplied to the meat side and refrigerated for another 3-4 days. The meat is then rinsed with water and cloth-dried and is ready to be smoked.
Third, wet cured bacon has four essential ingredients: salt, sugar, time and constant temperature. Each brine recipe may differ in ingredients, but may include maple syrup, rosemary, garlic and onions, to list a few. The bacon marinates in the brine at a refrigerated constant temperature for 4 days. The bacon is then removed from the brine and dried off.
Did you know that bacon is so loved that products such as bacon toothpaste, dental floss, drink ware, clothing, toys, chewing gum, scented candles, air fresheners and even cologne were created?
How to Cook Bacon. Factors including convenience, cleanup time, and crispy or chewy bacon should be considered when determining which method of cooking should be employed. Be careful of high-heat cooking used for crispy, well-done bacon. It is believed that nitrosamines (carcinogens) are formed as a result, potentially leading to serious health problems. Vitamin C, through the curing process or added to your meal, reduces the effects of these compounds. Once decided upon, any one of the following modes will produce all of the deliciousness that bacon has to offer. Like other great things in this world, when it's good it's great and when it's bad, it's still pretty good.
Stovetop cooking is how my mother cooked bacon when I was growing up and is definitely my favorite because it cooks in its own bacon fat. Little did I know (and care) at the time that fat was bacon's greatest contribution to my health; I just remembered how great it tasted!

I recommend using a stainless steel or cast iron skillet because of the toxic chemicals given off from overheated (500+ degrees F) nonstick cookware. You will need a fork (large or small) or tongs to turn the bacon. I prefer to use a fork to stab the bacon … it just feels as though I have more control over it than with tongs. Once you have chosen the bacon you are going to eat (hopefully, healthiest you can find), place the desired number of slices into your pan. Cook on low-medium heat, flipping occasionally. When the bacon has been thoroughly cooked (a browning of the meat with no redness) to your liking place each slice on a plate covered with an absorbent paper towel to catch some of the grease. Keep in mind that the grease on the bacon may continue to cook the bacon for a short time after you remove it from the pan.

Finally, turn off the stove and move the pan off of the burner. Once the pan has cooled, place several paper towels in the pan to soak up all of the grease. Remove the grease soaked paper towels and place them in the trash can. All of the liquid grease should be absorbed before you wash the pan in the sink. If you plan to use the extra bacon grease left in the pan after cooking your bacon for other cooking projects, pour the cooled grease in a jar and set it aside. Note: pouring hot grease into a jar could cause the jar to crack or break. Make sure to wipe down the stovetop where bacon grease may have splattered during the cooking process.

Oven cooked bacon is an attractive cooking alternative for those who are tired of having to regularly flip the bacon and the splattering burns from the stovetop method. Using a cooking rack can help make your bacon crispier by cooking it from all angles and having it elevated above the fallen grease.

Preheat your oven to 400 degrees F. Line a baking sheet with parchment paper to make cleanup easier. Place the slices of bacon close together to maximize your sheet space. Make sure none of them are overlapping to ensure even cooking and to prevent the slices from sticking together.

Place the sheet into the oven and cook until the meat of the bacon is brown, not red. Cooking time will depend on the desired level of crispiness and the thickness of the bacon. Periodically check the bacon to see how quickly it is cooking. Once the bacon is done, remove the sheet from the oven and place the bacon slices on a plate covered with an absorbent paper towel to catch some of the grease. The grease on the bacon may continue to cook the bacon after you remove it from the sheet.

Turn off the oven and place the parchment paper in the trash can for the easy cleanup. If you want to save the grease, wait until it has cooled and pour into a glass jar and set aside for later use. Scrub the sheet in the sink, dry and place in its designated spot.

Microwave cooked bacon provides a short cooking time and virtually no cleanup. Its speed and convenience has many who are on-the-run as its primary users. Unfortunately, there is some controversy over the use of microwaves on your health. It is beyond the scope of this article to go into detail so I will leave that decision up to you. Here are some articles that you might find helpful in making that decision (Article 1, Article 2, Article 3, Article 4).

Place 2-3 absorbent paper towels on a microwave-safe dish. Lay the desired amount of bacon slices on the dish as space will allow. Make sure none of the slices are touching; you want them to cook evenly. Cover the bacon with a paper towel so that grease won't splatter when the bacon is cooking and place in the microwave.

Heat the bacon on high for 3 minutes. Check and see if its meat is brown. If not, you may want to cook it another minute or two. Be careful not to overcook the bacon.

Once the bacon is done, remove the plate from the microwave and place the slices on another paper towel to soak up any unwanted additional grease. Allow it to cool to your preferred temperature and then it's ready to eat.

Grilling bacon will be one of the best bacon experiences that you will ever have if you choose to do so. It is flat-out fantastic. I recommend using a thicker slice of bacon so that if it sticks on the grill it won't completely fall apart. Also, the texture and juiciness of thicker slices is out-of-this-world.

Grease your grate with grass-fed butter or coconut oil to help avoid the bacon sticking to the grate. Then, preheat your gas or charcoal grill to medium heat. Once the temperature has reached the desire heat, place the slices of bacon perpendicular to the bars on the grate. This will help prevent the bacon from falling through the grate and into the fire. Make sure that the slices are not touching so that even cooking will occur.

With tongs or a large fork, flip the bacon occasionally making sure each side gets its needed cooking time. The bacon is cooked once the meat of the bacon is brown. If a crispier texture is desired a longer cook time is necessary. Check every 30-60 seconds until the bacon has reached the desired crispiness.

Remove the bacon from the grate. Place on a plate with a paper towel to absorb any unwanted grease. Allow it to cool to your preferred temperature and then it's ready to eat.

"Boiling" bacon is a delicious alternative to the other cooking methods. It produces crispier, not overcooked bacon

On high heat, place bacon slices in a stainless steel or cast iron skillet that has enough water to cover the slices. Lower the temperature to medium when the water boils. Once the water evaporates, lower the stovetop temperature to low heat. Cook until the meat is brown. Remove the slices from the skillet and place on a plate so that they will not continue to cook. There should be less bacon grease after cooking in water so, the use of paper towels are probably not necessary.
Did you know that bacon comes in a variety of (not so healthy) flavors: chocolate covered bacon, bacon ice cream, bacon cupcakes, candied bacon, Nacho Doritos battered bacon, beer battered deep fried bacon and deep fried bacon wrapped Twinkies, to list a few?
How to Buy Bacon. The saying, "Don't spend your money on possessions; spend it on experiences" directly applies here because we all know that great bacon is an experience. So, when purchasing bacon there are several things you may want to consider for the enjoyment of your meal.
Determine bacon slice thickness. The standard thickness of 1/16 of an inch is generally used for meals. A slightly thicker cut is used for seasoning dishes such as casseroles, soups and green beans, but can definitely be eaten alone as well. The butcher's meat counter typically offers uncut bacon so that you can slice it to your own liking. Finally, farmers markets provide bacon for those who choose to shop outside of the grocery or health food store.
Select from turkey, goat, beef, lamb, chicken and pork bacon. Pork is the most common choice, but the other varieties may be worth experiencing
Choose a curing process. Bacon undergoes one of three curing processes: salt (dry curing); injection or marinating in brine (wet curing); or "uncuring."
Steer clear of added nitrates. Bacon naturally contains nitrates. Typically, there are fewer artificial ingredients when nitrates are not added.
Like anything else, bacon with the fewest number of ingredients on the ingredients list tastes better, is of higher quality and is healthier.
Hopefully, you now have the "tools" to maximize your bacon eating experience. Experimenting with some different types of bacon, cooking methods and purchasing ideas may help generate a more creative approach to how you use bacon in your diet. Bon Appetit!
Disclaimer: The purpose of this article is to share Rusty Gregory's experience, education and research on the topic at hand. The contents of this article are the opinions of Mr. Gregory and should not be used for medical advice, diagnosis or treatment. Consult with your licensed physician or healthcare provider about your specific health needs.