It has been estimated that 80% of American adults will experience back pain at some point in their lives, with most of the cases resulting from non-serious conditions. Additionally, low back pain is one of the most cited reasons for absenteeism with approximately half of working Americans admitting to low back pain at some time during the year. Although there are other causes associated with low back pain such as herniated discs, spinal stenosis, disc degeneration, arthritis, osteoporosis, spondylolisthesis, muscle or ligament strain, and spinal curve abnormalities to list just a few, this article will deal with low back pain related to more sitting and less movement throughout the day, a modern-day epidemic.
So, what constitutes the low back and why is it so susceptible to injury? The low back is generally regarded as the five lumbar vertebrae (L1-L5). If you make a straight line from your belly-button to the same spot on your back, you will find that L1 is located a little higher than that spot and L5 slightly below your beltline (guys). This area supports the weight of the upper body and takes a hit every time you bend over to pick something up incorrectly (L5 and S1, specifically). An injury to this area can not only send pain down your leg (sciatica), but also from one side of your back to the other.
Sitting for prolonged periods of time not only produces tight and weak muscles of your body's core (muscles from above your knees up to your rib cage) leading to back pain, but increases the risk of premature death of all causes according to a study of older women in the American Journal of Preventive Medicine. This study indicated that even those people who exercised regularly suffered from early death if they sat too long. The answer, get up and move around throughout the day. Not only will you lower your risk of early death, but your back will thank you for it as well.
Extended sitting, in effect causes various forces to act on the rotation of the pelvis. These forces tilt and rotate the pelvis causing stress to the lower back. This is just an injury waiting to happen. Bending over to pick something up, twisting or turning in everyday movement, or standing too long can have an extremely painful consequence. Weekend warriors also beware. Strenuous workouts on the weekend preceded by a week of sitting in a car and at work is a recipe for disaster for the health of your back. Attention to your back daily will go a long way to keeping it strong and healthy.
The good news is most back pain can be prevented and relieved. The following is not meant to be a lengthy, put your workout clothes on, head to the gym, and get sweaty workout. Instead, it is a quick help to strengthen and stretch the quadriceps, hamstrings, gluteals, low back and abdominal muscles while remaining five feet from your desk. These muscle groups directly affect the position of the pelvic area and require the appropriate amount of strength and flexibility to balance each other out. A muscle or group of muscles that are too tight or weak relative to the other muscle groups that form the core area, create a pelvic tilt, either anteriorly or posteriorly, resulting in poor posture. This sequence of exercises will help relieve back pain that is associated with poor pelvic posture by creating proper musculoskeletal balance; and if done several times during your work day, will interrupt your long periods of sitting that contribute to an increase in premature death.
If any of these exercises / stretches cause pain, stop immediately. Do not power through the pain thinking it is a good thing. This will only do more harm. Consult with your physician or health care provider to get the proper care you need. If you are experiencing pain, significant weakness, numbness, or tingling down your leg, or have a drop foot prior to starting this program, seek your physician's advice for your next step in treatment.
Wall Sits To Reduce Back Pain
Muscles Exercised: Quadriceps, Hamstrings, Tibialis
Procedure: Stand with your back to a wall. With your back touching the wall, slowly walk your feet out away from the wall (approximately two-three feet) as you lower your hips to a 90-degree hip angle. Your knees should also be at a 90-degree angle. Hold this position for 30-seconds. Placing a stability ball (optional) between you and the wall provides additional support for your lower back if your hips and lower back are in contact with the ball when you are in the sitting position.
Tip: Press the heels of your feet to the floor, not your toes or balls of your feet. This will help relieve any stress in your knees.
Optional Equipment: Stability Ball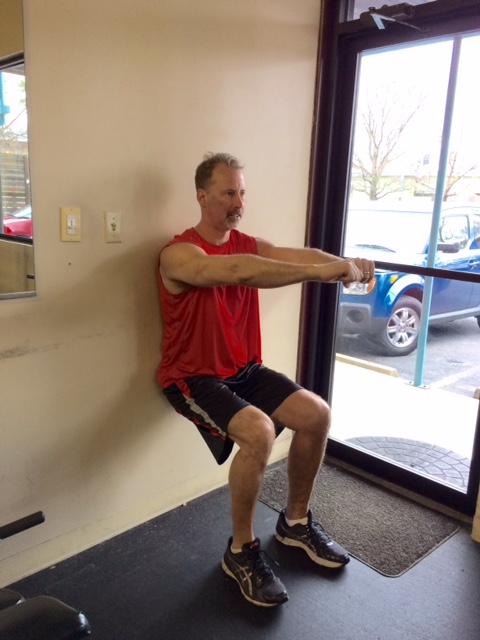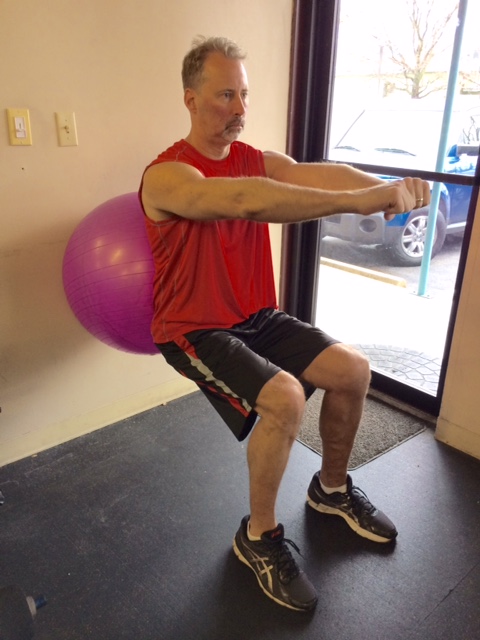 Bird Dog For Back Pain Prevention
Muscles Exercised: Erector Spinae, Gluteals, Hamstrings, Rectus Abdominus
Procedure: On the floor, in an all 4's position, raise your right arm in front of you so that it is parallel with the floor. Then, raise your left leg so that it is also parallel with the floor. Hold for 30-seconds. Lower your right arm so that your right hand is on the floor and your left leg so that your left knee is on the floor. Then raise your left arm and right leg and hold for 30-seconds.
Tip: Keep your hips parallel to one another and do not arch your back while performing this exercise. This could lead to an undue strain on your lower back.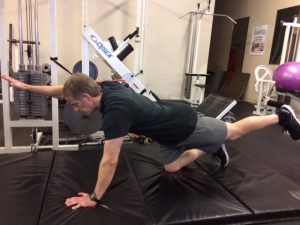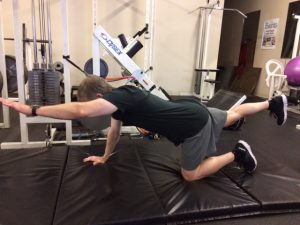 Abdominal Crunches To Strengthen Core Support
Muscles Exercised: Rectus Abdominus, Transverse Abdominus, Internal and External Obliques
Procedure: Lie on the floor with your knees bent and your feet flat on the floor.  Cross your arms on your chest. This will allow for your neck muscles to be exercised as you lift your head throughout the movement. If you cannot perform the entire set due to neck fatigue, place your hands behind your head with just your fingertips touching. Interlocking your fingers behind your head encourages pulling your head and stressing your cervical spine. Raise your head and shoulders as high as you can with your chin facing the ceiling, not tucked. Keep your lower back on the floor the entire time. Once you reach the height of the repetition, pause momentarily (approximately 2-3 seconds); then, slowly lower your head and shoulders back down to the floor. Remember to exhale on the way up, and inhale on the way down. Perform 1 set of 10 repetitions.
Tip: If you feel pain or discomfort in your lower back, elevate your feet off the floor with your knees above your hips or slightly towards your head and shoulders. This "rounding" of your lower back will help alleviate undue stress to your lower back.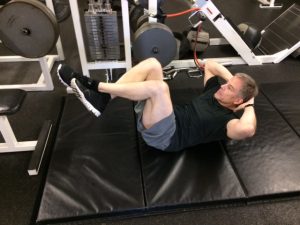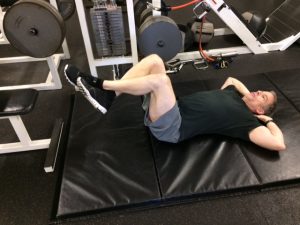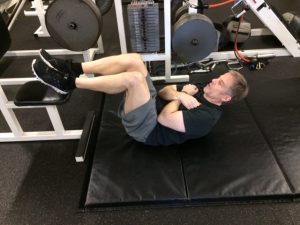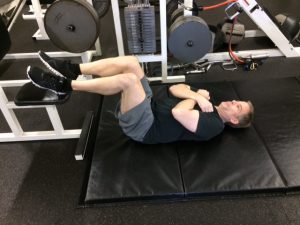 Quadricep Stretch To Help Back Pain
Muscles Stretched: Quadriceps
Procedure: Stand next to your chair. Place your left hand on the top of the chair to help you maintain your balance as you grab the top of your right foot with your right hand. Slowly pull your right heel towards your right buttocks while keeping your right thigh perpendicular to the floor. Stand as upright as possible with your lower back in a neutral position (not arched or rounded). Hold the stretch for 30-seconds, then slowly lower your foot to the floor. Repeat with your left leg.
Tip: If your quadriceps are too tight, you may have difficulty reaching or holding on to your foot. If this is the case, stand with your back to your chair and place the top of your foot on the seat of your chair while holding on to your desk for balance. A slight increase in stretch will occur as you raise your foot so that only the tips of your toes are in contact with your chair.
Hamstring Stretch To Protect The Back
Muscles Stretched: Hamstrings
Procedure: Stand facing your chair with your left hand on your desk or something stationary for balance. Raise your right leg and place your right heel on the seat of your chair. Without pointing your toes (toes pointing to the ceiling), slightly flex your right knee and bend forward at your waist keeping your back totally straight. Your left leg should also be slightly bent at the knee throughout the stretch as well. Hold the stretch for 30-seconds. Repeat with your left leg.
Tip: If your lower back feels pain or strain or you don't feel the stretch in your hamstring, check your form; you may be rounding your back instead of keeping it flat. Also, if you only feel the stretch in the back of your knee, your knee is probably too straight, try bending it a little.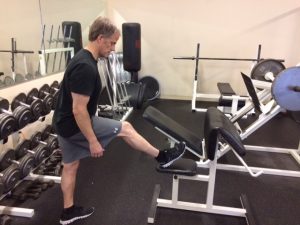 External Hip Rotator Stretch For Back and Sciatica Relief
Muscles Stretched: Gluteus Medius, Gluteus Minimu9s, Tensor Fasciae Latae, Piriformis (flexed hip)
Procedure: Sitting on the edge of your chair with your knees and hips at a 90-degree angle, raise your right leg and place your right ankle (lateral side) on your left leg (just above your left knee). Keep your back straight as you bend forward at the waist throughout the stretch. With both hands, slowly draw your right knee towards your left shoulder. Once you feel the stretch in your right gluteals, hold for 30 seconds. Repeat with your left leg.
Tip: Rounding your back during the stretch will reduce the amount of stretch you achieve. Also, pulling your knee towards your shoulder too quickly may result in a strain the hip area muscles; move slowly into the stretch.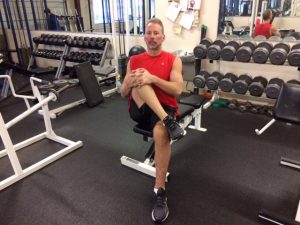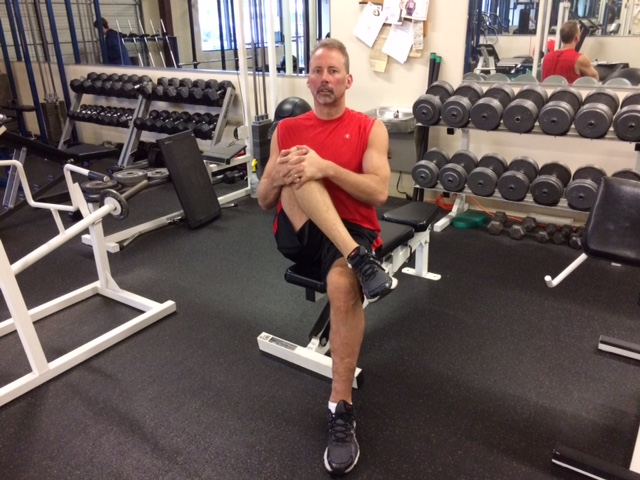 Internal Hip Rotator Stretch for Back Pain Prevention and Relief
Muscles Stretched: Gluteus Maximus, Sartorius, Piriformis, Quadratus Femoris, Gemellus (Superior and Inferior), Obturator (Internus and Externus)
Procedure: Sitting on the edge of your chair with your knees and hips at a 90-degree angle, raise your right leg and place your right ankle (lateral side) on your left leg (just above your left knee). Keep your back straight as you bend forward at the waist throughout the stretch. With your right elbow or hand, apply slight pressure to your knee pushing it towards the floor. Once you feel the stretch in your right hip muscles, hold for 30 seconds. Repeat with your left leg.
Tip: Rounding your back during the stretch will reduce the amount of stretch you achieve. Also, pushing your knee towards the floor too quickly or too far may result in a strain the hip area muscles; move slowly into the stretch.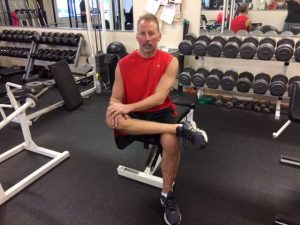 This simple routine performed several times throughout the day can not only alleviate low back pain, but also help prevent it. Pain due to poor posture will subside as your core gets stronger and loosens accordingly, allowing your pelvis to correctly position itself. Applying the Six Pillars of Health, diet, exercise, stress, sleep, gut health, and environmental and household toxins / chemicals as I do with all the health issues I cover is often sufficient to keep low back pain at bay. However, one additional safeguard that should be put into place is that of mindfulness. Movement with purpose, focus, and attention to detail reduces the chances of slips, trips, and falls as well as, mindlessly bending or twisting "funny" while lifting something heavy or moving to pick something up.
If you experience on-again, off-again low back pain, because of treating low back pain instead of preventing it, you may consider this program as a regular staple to your daily routine. A few minutes here and there can save you a significant amount of discomfort, absenteeism from work, and lost time doing the things you enjoy in life. If left unattended, chronic back pain can set in leading the way to other contributing factors that will only exacerbate your low back problems such as, weight gain, inactivity (more sitting), and so on. Chronic pain often leads to depression and a decrease in life satisfaction. This can have a crushing effect on your overall wellbeing and other lifestyle choices you make. So, an ounce of prevention really is worth a pound of cure when dealing with your low back and your entire health.
Disclaimer: The purpose of this article is to share Rusty Gregory's experience, education and research on the topic at hand. The contents of this article are the opinions of Mr. Gregory and should not be used for medical advice, diagnosis or treatment. Consult with your licensed physician or healthcare provider about your specific health needs. Be smart with the lifestyle choices you make and all your health-related decisions.